These are geared 24v, 250w motors with a sprocket pitch the same as bicycle chains - Chinese in origin.
Designed as bicycle driving motors. expensive in the U.K, but available in the U.S. I believe, under the Currie brand?
I would bet they would make a nice pedal generator, with a 3:1 drive i.e. a pedaled chainwheel of 52 teeth to that 16 tooth chain driven gear.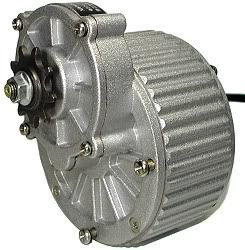 Certainly there are 4 poles of Neo magnets inside, brushed also, I doubt anyone could wear those out on a pedal machine.